Strange Light
Photos from the Great Australian Dust Storm
By Derek Powazek


Strange light fell over Australia on September 23rd 2009.

An unexpected dust storm blanketed New South Wales and Queensland, turning everything an eerie shade of amber. At its peak, the storm swept up 140,000 tons of soil per hour.

In spite of the worst dust storm in 70 years, intrepid photographers ventured outside to document what was happening to their homes, neighbourhoods, and country. This is what they saw.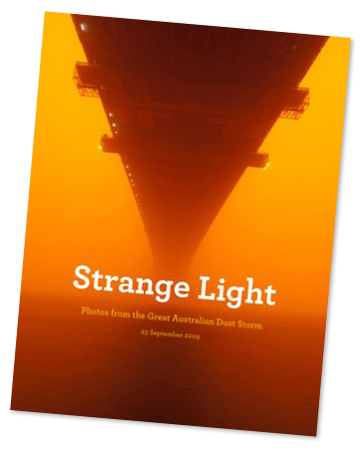 I woke up just before 6am to an eerie, red-orange glow peeking out from behind the blinds in my inner city apartment. I threw on my gym gear but instead of going to do leg presses, I grabbed my camera gear and ran about the inner city taking photographs, watching Sydneysiders awake to this phenomenon.

Not wanting to cycle to work, I took the car across the world famous Sydney Harbour Bridge and drove around to a point on the north-western side of the harbour to where I thought I would get a fantastic view of the harbour, Opera House and the central business district.

I didn't realise I wouldn't be able to see them.